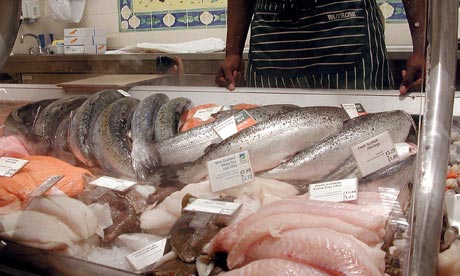 We all know that when it comes to nutrients, fish pack one heck of a punch.  They're definitely brain food – those omega-3 fatty acids provide proteins and minerals to your brain, and keeps your blood pressure low (so eat lots of fish around finals!).
However, what about the downsides of eating fish?  We all already know that if we're not careful when we  eat the carnivorous fish higher up on the food chain, we can get mercury poisoning. That's a problem that can easily be solved; just eat herbivorous fish and limit your intake of tertiary consumers like swordfish (and sharks, although few people in America eat shark on a daily basis).
However, when we went over fisheries in class, there was one small fact that bothered me.  One of the slides stated less than 2% of our seafood is inspected by the FDA.  Remember, we import 80% of our food.  Have you ever seen a label in a fish market stating that the shrimp is coming from new, well-contained farms, or if it's from old-fashioned shrimp farms with water polluted by banned antibiotics?  We rarely know if our fish was caught in the wild and is part of an endangered species, or if it was raised in an overcrowded fish farm, or if it was raised in a more contained fish farm in a well-made cage.  It's like "Food Inc." all over again!
We shouldn't just be concerned about antibiotics in the fish we buy, however.  There's also the diseases the fish can bring.  About 20% of fish inspected (and thankfully rejected) has salmonella.  There was also an outbreak of ciguatera in Texas in 2007.  Cigueatera is basically a severe form of food poisoning.  Victims usually get the basic symptoms of food poisoning – fatigue, nausea, and so on – but they also slow the victim's heart rate and cause neurological problems that can last for years.  You can read about one woman's brush with fish-based ciguatera here: http://www.msnbc.msn.com/id/29392319/ns/health-food_safety/t/bizarre-fish-poisoning-sparks-alarm/?ns=health-food_safety&t=bizarre-fish-poisoning-sparks-alarm
The good news is that we're actually more likely to get sick from beef or turkey than seafood (Ahmed).  Yet we should still try to make our seafood safer.  The question is, how can we do so?
Ahmed, Farid. "Seafood Safety." The National Academic Press. 1991. Web. 15 Apr. 2012. <http://www.nap.edu/openbook.php?record_id=1612&page=3>
Gilbert, Nicole. "Tainted Seafood Reaching American Tables, Experts Say." msnbc.com. 5 Oct 2011. Web. 14 Apr. 2012. <http://www.msnbc.msn.com/id/44701461/ns/health-food_safety/t/tainted-seafood-reaching-american-tables-experts-say/>
Health, Washington State Department of Health – Environmental. "Health Benefits of Fish – Washington State Department of Health." 26 Jul 2011. Web. 15 Apr. 2012. <http://www.doh.wa.gov/ehp/oehas/fish/fishbenefits.htm>
Segre, Alex.  "Picture of fish in supermarket". Photo, The Guardian 5 May 2011. 14 Apr 2012. <http://www.guardian.co.uk/environment/2011/may/05/supermarkets-fish-labelling-criticised>